9 TOP TIPS FOR BUILDING AN EXTENSION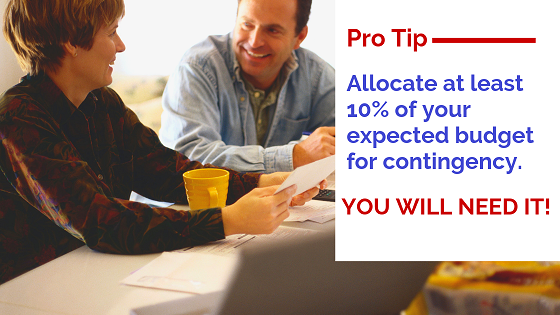 You've made the decision to stay in your current home and expand rather than move. But building an extension can very easily blow the budget, so we've put together some golden rules here at Buildershop UK to help you keep costs down and still get amazing results.
Tip 1 Budget
Pick your budget, then add at least 5-10% contingency for any unexpected surprises. Now this seems like a pretty simple task, but you can't pluck a figure out of the air, even in the very early stages.
According to Property Like a Pro, you have six core categories to consider:
The cost of your design team
Surveying costs
Spend for legalities
The all-important construction cost
Fixtures and fittings (more for bathrooms and kitchens)
Don't forget interior design - accessories can quickly bump up the budget
Contingency
There are also applications for calculating the costs online to help you get started. The Self Build Cost Calculator is an easy-to-use calculator. It is determined by region and gives you rough guides for the price per square metre and how much tradespeople in your area will cost per day.
Tip 2 Make a Plan
We all have different capabilities, skills and time so our plans are all a little different. You may want to source and supply all the building materials yourself. Here at Buildershop UK, we are happy to assist you in that task, as you can order online and get it delivered straight to your door.
You may want to project manage, which reduces the cost of suppliers. This requires strict schedules and management of your tradespeople, making sure that builders complete their tasks on schedule and within the agreed fee.
Plan which areas you want to manage in-house and which you want to contract out, and make sure you allocate time for the jobs you plan to undertake yourself.
Tip 3 Stick to your Design
Use the design time to perfect your plans because once your designs are submitted for planning permission, there is no inexpensive way of going back. If you start making significant changes after the submission, an architect or engineer will have to re-edit the plan in accordance with the building regulations and re-submit. Altering the design will inevitably cost you more money and push your schedule back by months. So, enjoy this stage of the process and don't be afraid to ask for changes, because you want to submit your perfect design.
Tip 4 Hire an Architect
Hiring a brilliant architect will inevitably push prices up, but you should consider that your extension is a long-term investment, not only increasing the square footage of your home, but also adding value to your overall property. We recommend investing in a good architect for large extension projects, as they will help bring your home to life.
There are architects to suit all styles, from traditionalists, to those who offer a modern addition to your home. They'll take into consideration the purpose of your extension and your needs as homeowners.
RIBA is the best place to find quality architects. You highlight your needs and are then matched with Chartered Practices. Alternatively, ask friends and family. Someone always knows someone, and in this case, you may be able to visit the finished product, or at least see their portfolio.
Tip 5 Consider a range of materials
It is likely that, at first, you'll veer towards the best products on the market, thanks to their aesthetic appeal, but it's a good idea to be strict from the offset. There are several choices of materials these days, so don't automatically go for the first option presented to you during the design phase. For instance, glazing can be costly, as well as aluminum frames.
Have a little give and take, allocating more budget to materials that you don't want to scrimp on, and looking for cheaper alternatives for building materials that are less of a priority. One option is to source reclaimed materials, especially when it comes to natural stone, slate and clay.
Tip 6 Plan to do some DIY
This is particularly important for those of you on a very tight budget. Rolling up your sleeves and doing some of the work yourself will save the £££s. Building supplies and building materials are relatively cheap, it's the labour that increases the costs. Taking on the challenge to complete some projects yourself will help save on costs. Consider clearing up after the builder, or fixing curtain poles, fitting sockets or decorating. Real Homes has even more excellent ideas on how to cut the cost of your extension when it comes to DIY.
Tip 7 Choose the best builder for your design
Research, research, research! Ask to visit projects they have completed before, look at the designer's website and read reviews on their Facebook page. This is 100% the singularly most important decision you will make. You don't want to contract a builder who specialises in stone when your design is based on glazing and frames.
Take your time to delve into their work and allocate time for a phone call or interview with them. Be completely clear about your vision and don't hold back. Invite your architect along if you are unsure, as a second opinion always helps.
And get AT LEAST THREE QUOTES!
Tip 8 Be clear with your builder
Once you've chosen your preferred builder, make sure you obtain a fixed quote that clearly states the jobs to be done and the agreed payment. You must also come to an agreement on who will be signing off the building regulations with the local authority.
A fixed price-building contract is also advised, as it will allow for an accurate budget. With detailed planning and without significant changes to the project, such a contract will allow you to stick to your budget and use your contingency wisely.
Tip 9 It will take longer
Deadlines are important but be realistic when it comes to building work. Delays should be expected, so if you have a strict deadline, try to start the project earlier. You cannot plan for weather, supplier delays and trade schedules, as much as you want to. Be patient.
We wish you all the best with your extension project.