AN IN DEPTH LOOK AT CAST IRON GUTTERING, PIPES AND DRAINAGE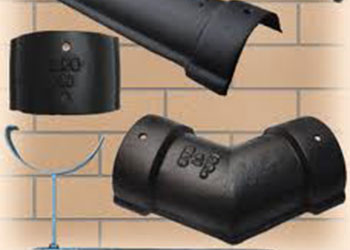 Restoration and new build
Cast Iron Guttering and Pipes provide a top quality finish to any building, whether it is for new-build, restoration or historic developement. The hard-wearing, recyclable product is the perfect solution to complement any property new or old.
There are three main product groups available in cast iron. The most popular being the Premier Rainwater and Soil which include an extensive selection of traditional cast iron pipes, gutters, heads or fittings which can cover any external rainwater or soil applications. All of these products can be either supplied finished with a grey primer with rust inhibitors or pre-painted in a semi-glosss as standard. Other BS or RAL colours are available.
If you're looking for an above or below ground socketless cast iron system then the Halifax Soil and Drain is answer. The strength, low maintenance, low noise operation and fire resistance of this cast iron system addresses the needs of specifiers and contractors alike. Soil pipes are manufactured up to 200mm diameter and there is choice of either ductile iron or chromed steel Max coupling.
For the industrial and commercial market there is the Mech 416 system. This is a mechanically jointed socketless cast iron system for above ground soil drainage. The 'fit and forget' system offers a modern alternative to traditional soil systems.
Bespoke cast iron products can also be made to order.
All the above systems comply with the relevant BS and EN standards and are manufactured by expert founders with 100 years experience. The manufacturers offer the highest level of craftsmanship and quality materials. For a more details please click here.
Benefits
Metal guttering is often more in keeping with older properties, particularly when ornamental styles are chosen. It's sustainable and recyclable, making it perfect for eco-friendly projects too. Cast iron is one of the most robust materials for guttering. While brittle plastic can be prone to leaking after a few years, cast iron easily lasts a century or more with minimal maintenance.
Still unsure which products you need?
From standard cast iron drainage products for the construction industry to cast iron products for the engineering and machine tool industries or bespoke architectural iron castings, we can offer a tailored solution for any cast iron requirement. If you can't see the products or systems that you are looking for, please contact us as we have access to the whole range of top quality products from Hargreaves Foundries.