BUILDING SUPPLIES AFFECTED BY COVID JANUARY 21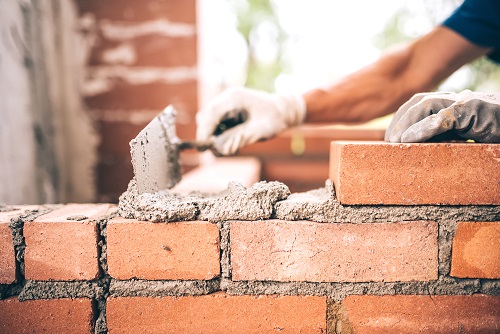 Advisory piece on building supplies affected by Covid
Covid's impact on building supplies
Covid-19 has had a huge impact on us all, with every industry affected in some way. However, the construction industry has undeniably been one of the hardest-hit.
Here are some sobering statistics:

In 2020, construction work in the UK fell to the lowest level of activity in 11 years1.
51% of construction suppliers have been forced to consider a reduction in their workforce1.
Over 70% of construction business owners have recorded a drop in profitability and 20% of those say their profits have halved.
With the Government inhibiting all construction work back in early 2020, it's easy to see why the industry has been impacted so much.
Restricted travel has been a huge inhibiter to accessing supplies, goods and services, paired with trade restrictions and rising operating costs.
The main supplies affected are timber, bricks, roofing supplies, insulation, cement, fencing, paving and plaster.
The shortage of these supplies is due to reasons we all know well… factory closures in the first lockdown, a backlog of orders, import issues and demand outweighing supply. The upshot is that prices will inevitably rise. Some manufacturers have advised of a likely price increase of 11-18% from 1 March 2021.
Key things you need to know:
Timber. A timber shortage has become increasingly worrying for the construction industry. The impact was initially felt on pressure-treated decking, and more recently on windows and doors2.
Roofing. The National Federation of Roofing Contractors conducted a survey where 55% of contractors reported shortages of roof tiles, timber, membranes, felt, insulation and slate3.
Insulation. Contractors ordering insulation have been facing 4-5 week delays due to shortages. While UK manufacturers are working hard to keep up production, the increase in demand for mineral wool and glass wool insulation is causing serious delays. PIR insulation shortage is due to high demand for the chemical MDI – one of the prime ingredients.
We suggest looking at PIR alternatives such as sheep wool, wood fibre or multifoil, which give great thermal performance4. But do plan ahead – you won't be the only one seeking alternatives!
To the small scale builders that hold the whole of the construction industry on their backs, the short supply and price rises can be too much to cope with. Smaller companies are really struggling to keep up supply and are consequently losing out on crucial construction works.
While the situation certainly looks worrying, here are a few positives…
Construction projects have been delayed, however when our lives finally start again there could be more work than what we know to do with. According to Construction News5, activity continued to grow in December 2020. It reported "Construction companies are hopeful that higher demand will broaden out beyond residential projects in the next 12 months, led by infrastructure spending and a potential rebound in new commercial work from the depressed levels seen during the pandemic."
Covid-19 has taught us to adapt. Many business owners in the construction industry say they have successfully found alternative materials. Most of us are using technology to hold meetings safely and more cost-effectively online, and we've all learned how to keep our workplace safe under Covid guidelines.
Our advice to you is to focus on the positive future that awaits us post-Covid.
We wrote about how to build around uncertainty back in 2017 https://www.buildershoponline.co.uk/news/How-to-build-around-uncertainty, and our advice now is similar to then – be prepared by planning well in advance of your project. Seek alternatives and get your supplies now or plan to get them as soon as possible before prices rise or more stocks become unavailable, so you and your business can continue operating and save yourself money, time and unwanted stress in these difficult times.
Buildershop is here to help. We're constantly talking to manufacturers to ensure we have access to the most urgent supplies when they become available. We are regularly talking to them and will try to keep prices down as much as we can. In the meantime, please contact us to discuss alternative supplies for your project.
1 https://www.achilles.com/industry-insights/the-impact-of-covid-19-on-the-construction-industry/
2 Where'd the wood go? Lumber is the latest COVID victim (burlingtonfreepress.com)
3 Roofers' problems are invoices and materials but not demand (theconstructionindex.co.uk)
4 Insulation shortage halts construction. 'Plan ahead and have a plan B', say experts | cmostores.com
5 Construction costs pick up as activity grows in December | Construction News