DO I NEED PLANNING PERMISSION FOR MY BUILDING PROJECT?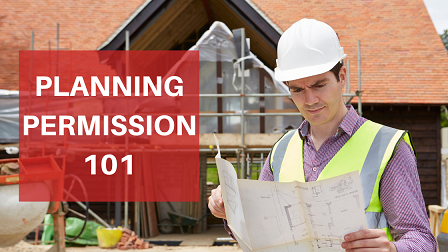 It is never ok to assume that a small build project does not need planning permission, even if it's a straightforward exterior change, or the construction of a small outside building. Risking it can be a very costly choice to make, and here at Buildershop UK, we aim to make your building projects as cost effective as possible.
What are the general rules for Permitted Developments?
Small scale projects, such as some extensions and interior development works to a house, are classed as 'Permitted Development'. This means that you can carry out the work without the need of any planning permission. The definition of Permitted Developments can change at any point and are subject to local constraints – such as the grade listing of your building, local conservation and planning conditions in your area. But generally, as of summer 2019, these types of developments include:
- Porches
- Roof alterations
- Gates, walls and fences (but check your boundaries)
- CCTV/Electric points for cars
Enlargement and improvement to your home is also within this remit. So, for example, carrying out a loft conversion should not require planning permission. New doors and sheds are also exempt from planning permission. Of course, every project is unique and certainly is worthy of being checked.
Extensions are naturally a little trickier to define. Go to HomeOwners Alliance HOA to read up on the exact requirements for Permitted Development on property extensions - it's a brilliant resource.
What are the general rules for requiring Planning Permission?
The general rules are based on making a significant change to your building such as a large-scale extension or altering the very purpose of your building. A good example is if you want to build a wraparound extension that is close to your boundary.
Some planning permission constraints, taken from The Planning Portal, include:
- If your extension is planned to take up more than half the land surrounding the original property
- If the extension is to be higher than the existing roof
- If a rear extension is higher than four metres
- If you want to use materials that are not the same as the existing building
Go to the website to see a full breakdown, as a helpful guide to get you started.
What is the risk of not checking?
To complete a project without planning permission can potentially lead to an enforcement notice. This allows your Local Authority to force you to reverse any of your development to date. There is an additional risk of court action resulting in the loss of both your time and your money.
It is much better to be safe than sorry, and as much as we can offer you some basic guidance in this blog, we suggest that you read up on your Local Authority legislation in detail before you start any project.
A quick chat with your Local Planning Authority will also cover any issues that you have and we'll be here to assist you with your building supplies and building materials when you're ready to start.