HOW TO TRANSFORM YOUR GARDEN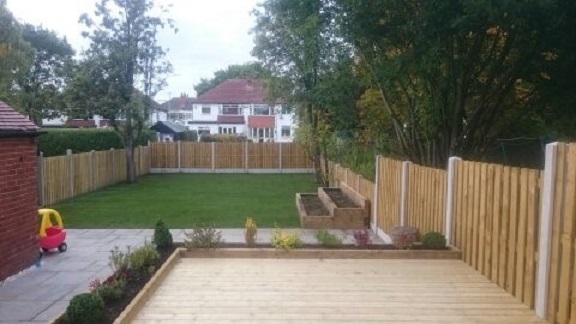 If you're anything like us, we're fed up of the rain and we're longing for a summer filled with barbecues, blooming flowerbeds, and a relaxing place to enjoy a long drink in the garden after work. With a little planning and effort, your garden can become a beautiful new outdoor room where you and yours can enjoy every minute in the sunshine.
Garden landscaping is a rather grand term that essentially means making the very best of your outdoor space. Plan it well and you can create anything from a beautiful feature path, a new decked area to catch the sun or even an outdoor kitchen with built-in pizza oven!
Here's a checklist of things you need to think about to get the very best result from your garden landscaping. Look at what you can achieve with different sized gardens in our landscaping case studies, then let our garden ideas inspire you…
1. The Checklist
Ask yourself a few fundamental questions about your garden:
· How much time will you spend in it?
· Are you really a gardener? Will high maintenance or low key suit you? Real or artificial grass?
· What are the important features? Flowerbeds? A vegetable plot? Greenhouse? Space for children to play? Trees? An outdoor seating area? A mixture of some or all of these?
· Is it north, south, east or west facing?
· What kind of budget do you have to spend?
· Would you like to do some or all of the work yourself, or get an expert in?
When you've answered these questions, you're already well on your way to achieving a plan of action.
The next stage is to get some ideas of how you want your garden to look. Here are three case studies based on a small garden, a medium-sized garden and a large garden – a professional landscape gardener designed and created each of these gardens, but you could build some of these ideas into your plan.
2. Case study 1: Small Garden – low maintenance
The customer's needs are for a very low maintenance garden using artificial turf and Yorkshire Stone Paving.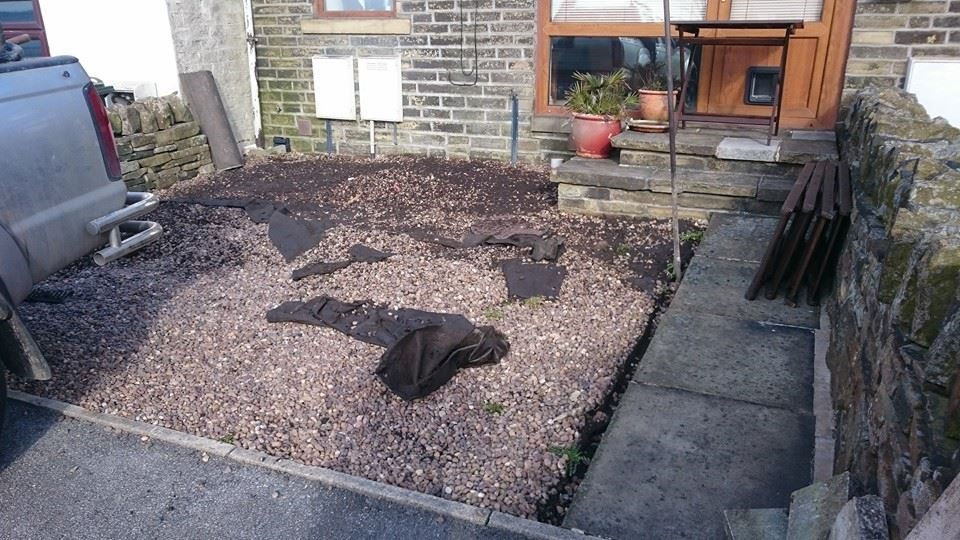 Small garden before landscaping
The gardener began by digging out the existing gravel and soil before laying reclaimed Yorkshire Stone paving across two sides with a solid concrete base.
The garden's central base was then laid and compacted with a membrane ready for the artificial turf to be fitted.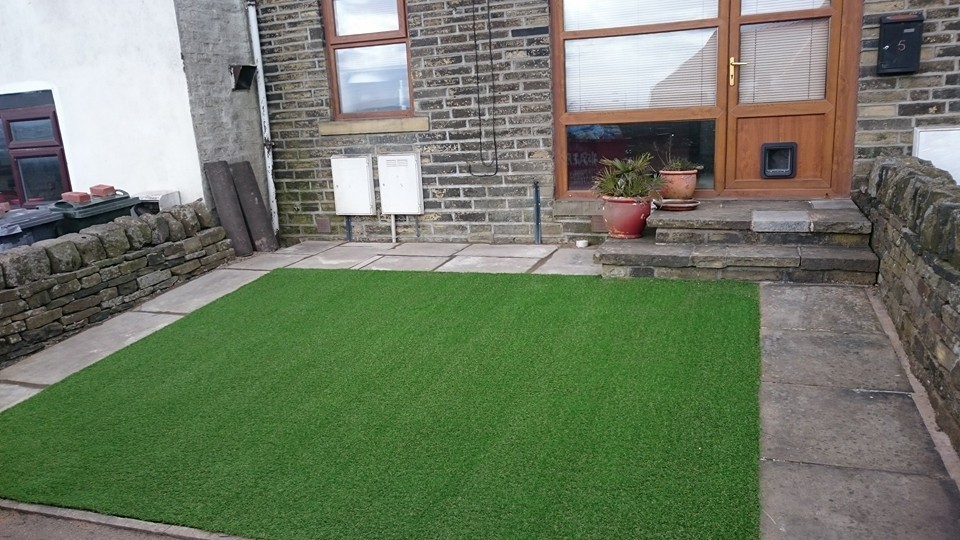 The result: a small but beautiful, easy-to-care-for garden
Within one week, the new garden has transformed the whole look of the house. It's easy to look after and ready for the customer and her family to enjoy.
3. Case study 2: Medium Garden – low maintenance, modern style for relaxing and entertaining
This medium-sized garden also needed to be low maintenance but modern with room to relax and enjoy time with friends and family. The gardener designed a garden with artificial turf, Indian stone paving and fencing to create an inviting space.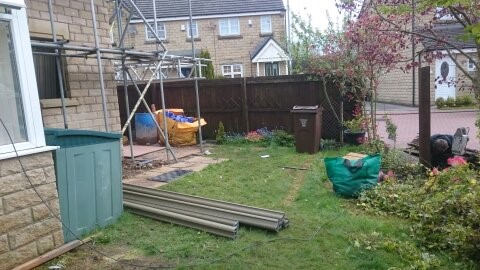 Medium garden before landscaping
The garden was cleared with a digger and hardcore was laid across the entire area. Composite fencing was then installed in an olive colour for easy maintenance. The paving was designed using a random pattern of four sizes of Raj Green Indian stone and pointed with Marshalls Weatherpoint jointing compound.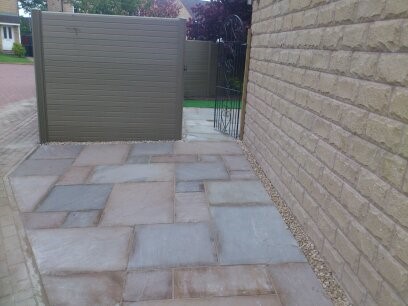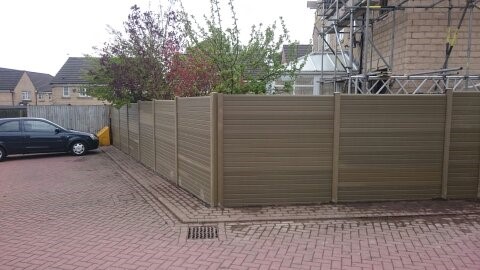 The result: modern, low-maintenance and ready to enjoy
Finally, artificial turf was laid with matching Raj Green setts around the edges.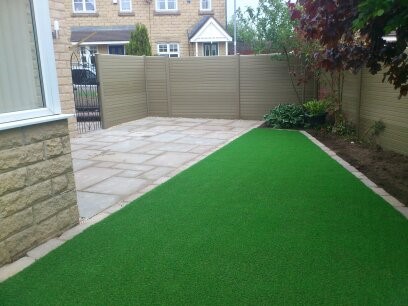 The result is a modern, private space ready for outdoor dining and entertaining.
4. Case study 3: Large Garden – child-friendly with plenty of room for entertaining
The owners of this large garden were keen to make it child-friendly and had plans to entertain regularly. The plan was to install raised split level decking with planters, a paved area, re-turfing and re-fencing.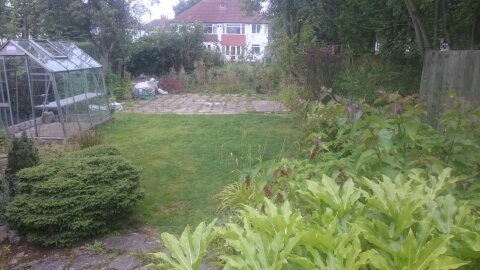 Large garden before landscaping
The first job was to completely clear the site and add drainage – five drainage channels were dug in, leading to a drain-off ditch.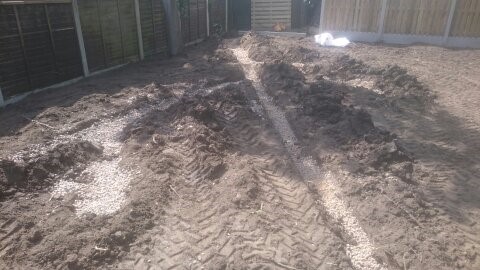 The next job was to tackle the fencing. Concrete posts and gravel boards were fitted, ready for the double-sided paling fencing.
Beautiful Kota Grey Indian stone paving was then laid in a four-size random pattern.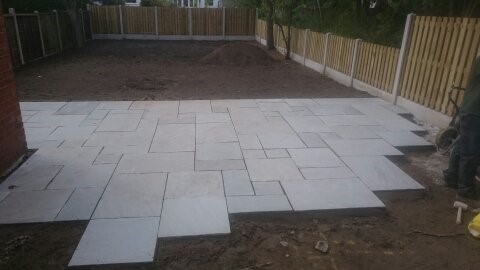 A stunning, split-level decking area was fitted with timber planters around two sides and split-level veg planters using softwood sleepers.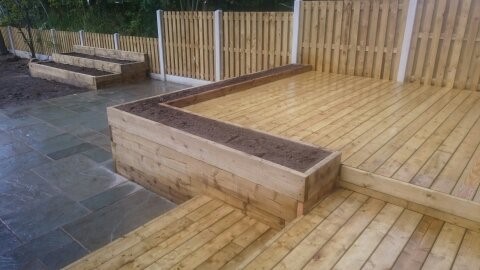 The final job was to level off the garden area, raking it out and laying new turf, giving a beautiful outdoor space that's safe for children to play in and ready to enjoy.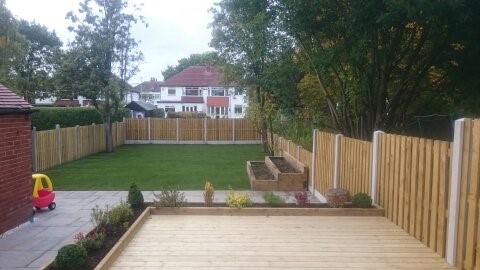 The result: perfect use of space for both children and adults
5. More ideas to inspire you
There are so many ways to transform your garden. In recent years, manufacturers have made it as easy as possible to do this with stunning gazebos and pergolas, decorative paving; coloured gravels; beautifully-designed fencing; pre-treated timber decking; easy-to-lift planters and garden sheds.
Here are some of the styles you can find at Buildershop:
Paving
| | |
| --- | --- |
| Marshalls Wildwood Paving | Coach House Steps |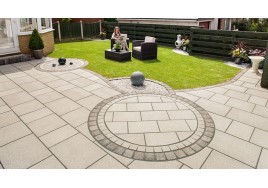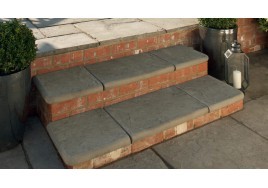 | | |
| --- | --- |
| Argent paving coarse | Argent paving smooth |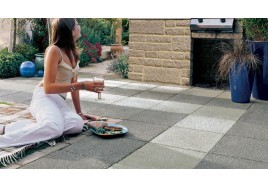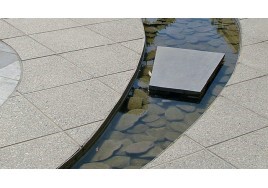 Have a look at our full range of paving
https://www.buildershoponline.co.uk/Landscaping-Products/Decorative-Paving-Edgings-Copings
Gazebos and Pergolas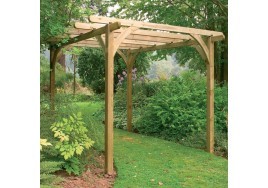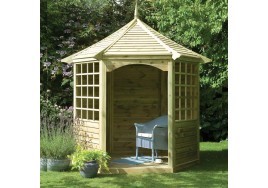 | | |
| --- | --- |
| Ultima Pergola Kit | Forest Garden Gazebo |
Have a look at our full range of pergolas, gazebos and arches
https://www.buildershoponline.co.uk/Landscaping-Products/Gazebos-Pergolas-Arches
Decking
| | |
| --- | --- |
| Patio Extension Deck kit | Ultima Pergola Deck kit |
Take a look at our full range of decking and decking kits https://www.buildershoponline.co.uk/Landscaping-Products/Timber-Decking

Fencing

| | |
| --- | --- |
| Horizontal Weave Trellis Fence Panels | Chevron Weave Wavy Fence panels |
Take a look at our full selection of fence panels, posts and accessories https://www.buildershoponline.co.uk/Landscaping-Products/Fencing-Posts-Accessories
Garden Sheds
| | |
| --- | --- |
| Overlap Apex shed | Shiplap Garden Store |
Have a look at our garden sheds and storage https://www.buildershoponline.co.uk/Landscaping-Products/Garden-Sheds

We'd like to help you to find the right supplies for your garden project. Visit our garden landscaping pages here for more ideas and to buy online.
https://www.buildershoponline.co.uk/Landscaping-Products
We've helped many customers, and landscape gardeners, to get the right garden supplies at the right price. Ask us to help you and we can make sure you have everything you need.
Call us on 01274 602367 or email us at sales@buildershoponline.co.uk
Thanks to Bairstows Landscaping for pictures of their fantastic garden makeovers. For more useful ideas, take a look at Bairstow's Landscaping Facebook.