TIME TO WARM THOSE COLD FEET!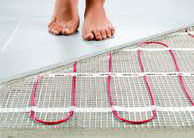 With winter just around the corner and temperatures plummeting by the day, we thought it would be a good time to assess the different systems available on the market for underfloor heating and where they originate from.
Origins of underfloor heating
Surprisingly, underfloor heating was originally used in a very basic form as far back as the Stone Age. This very early system was revealed in archaeological digs in Asia and Alaska, where it was discovered inhabitants had diverted hot smoke from fires under their subterranean dwellings which then served as heating for their living spaces. Before their times indeed!
In the 20th century, the esteemed architect Frank Lloyd Wright came up with the idea of using warmed water which eliminated the danger of the smoke.
These early forms have evolved into modern systems with water filled pipes or electrical cables and mats.
Various types of underfloor heating
Since the development of the original water filled pipes systems, there have been many additions and changes to suit most underfloor applications. Here we take a look at the options:
Pipe Systems
Pipe systems or 'wet' systems as they're often known work by pumping warm water through a network of pipes generally spaced between 200mm – 250mm giving out a heat output of 115w per m2 – 150w per m2. The spacing is dependent on situation where the system is being installed. For example, in a harder to heat conservatory, spacing will need to be closer. These figures are based on normally insulated rooms within homes or offices.
Pipe systems are installed on top of the correct thickness of insulation that building control requires to achieve the specified 'U' values for the floor. Once the run of pipes is complete and tested a layer of screed is then laid to provide a solid, even surface to which floor-coverings of choice can then be laid.
Electric Heat Mat
Heat mats are a quick and simple to install and are generally used under tiled floors. The mats come with electric cables woven in to the fabric at a pre-set spacing. The electrical current passed through the thin cables then heats the floor and room giving a lovely ambient temperature which is controlled by the thermostat.
The mats have a strong adhesive tape attached to allow them to be securely situated prior to tiling. The mats are a made from a nylon mesh that comes in 500mm wide rolls. These can be easily cut to fit most room spaces. Once the matting is in place, tiles can then be laid, ensuring that the correct type of flexible tile-adhesive is used.
Electric Cable Kit
Electric cable kits works the same way as the electric cable mats but the cables come on a roll and are designed to be used in awkward room spaces where it isn't possible to use matting.
Underwood Heating Mat
Underwood heating mats are a type of heating foil that is extremely thin and is suitable to be used under any type of wooden floor. The temperatures are regulated to stop them getting too hot to the point that the wood floor starts to distort.
When installing this particular type of mat, manufacturers' instructions must be checked carefully to ensure that correct type of insulation is in place beforehand. They do vary from one manufacturer to another.
Undercarpet Heating Mat
This relatively new and innovative system allows users to benefit from the radiant temperatures that underfloor heating provides in areas of the dwelling where it wasn't possible before. It must be noted though that this system will only work if the carpet and underlay has a combined tog rating 2.5.
There are a few types of systems on the market such as foil based systems with very fine wiring. Alternatively, there's the flat amorphous metal ribbons combined with a polyethylene electric insulation. Once again, care must be taken to check that the correct type of insulation is selected based on the manufacturers' instructions.
Pros, cons and running costs
No matter which type of underfloor heating system you choose, a lot of the performance is down to the insulation you use below it. The better the quality of insulation, the quicker the heat up time will be, therefore the lower the cost. Coupled with this, the level of insulation of the actual building itself will play a big part in how well the property performs as a whole.
If constructing a property from scratch, the end user generally goes for the wet pipe system. Although costly to install in the first instance, ongoing running costs should be less expensive. If choosing to retro-fit, electric systems work out the best options as they're not too expensive to install and require less depth than a pipe system.
With such a large selection of systems available from lots of different manufacturers, it is worth speaking to these companies as they should be able to provide you with some estimates for day-to-day running costs.
It is also worth taking in to consideration that once installed, electric systems don't have any moving parts so they shouldn't be any additional maintenance costs that you would incur with any 'wet' system of heating.
Benefits
The main benefit of having underfloor heating installed as the primary heat source for your property is that with ever rising fuel costs, in the long run, bills should cost less. Underfloor heating systems are a lot less wasteful than conventional radiator systems. They heat large areas slowly at low temperatures rather than intensely heating small areas at high temperatures. All of this allied with the fact that each room's temperature can be regulated individually with the thermostat so that the perfect temperature can be chosen for each area of the property.
Help and advice
As we realise that the above descriptions and details are just a basic guideline, Buildershop are more than happy to answer any more detailed questions and offer help and advice on a market where there really is numerous choices. Please feel free to contact us as we're on hand 7 days a week to offer free, impartial advice.