VELUX WINDOWS - MARKET LEADING QUALITY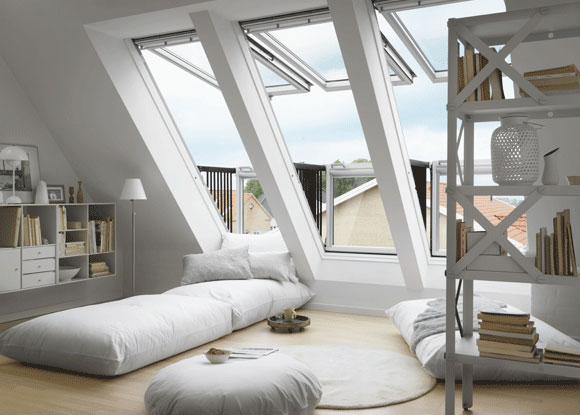 Bring a little light in to your life
Whether you're creating a new loft space, adding light for extensions or looking to get light in to the deepest, darkest depths of your property, VELUX has the solutions.
A brief history
The VELUX story began in 1941 when Villum Kann Rasmussen first saw the opportunities for developing cheap, useful living space under the sloping roof.
Competition had increased but there is still no company that demands the respect that the VELUX name has.
Many developments in roof windows and skylights, flashings and decoration and sun-screening products have followed and VELUX have taken their business to every market in the world where sloping roofs are commonplace
VELUX roof window GGL - the fruit of many years´ product development was presented for the first time in 1968.
This lead to numerous further developments over the years, some of which are detailed below.
Types and styles of windows and openings
From the least expensive and most commonly used centre pivot GGL3050 Pine finish centre pivot to the highly desirable Roof Terraces, VELUX has an extensive range of glazing options with standard toughened outer pane, laminated inner with toughened outer (also available with enhanced noise reduction), triple glazing and obscure.
The majority of the windows come in either the Lacquered Natural Pine or White Polyurethane finishes. There is also the possibility with most of the windows to use the Top-Hung option which can give better visibility.
These choices, coupled with manually operated, electric Integra and solar powered options really do provide a product to suit every budget and application.
Flashings
A range of flashings are provided for the VELUX windows to suit your specific type of roofing material. Be it slate, flat, low-profiled concrete tiles or bold roll tiles, there is a flashing for every job. If you are wanting to install windows side-by-side or one above another, there is also a range of combination and twin flashing options.
If you need any assistance in selecting the right flashing for your job, you can contact highly qualified team at VELUX on 01592 778225.
Other velux products
As VELUX are the most innovative company in their field, they are constantly looking at new products and possibilities that other manufacturers don't offer. Some of the more advanced products we take a brief look at below:
The Cabrio® balcony turns from a Roof Window to a balcony in seconds. This comes with an upper Top-Hung section which opens outwards whilst the bottom section unfolds into a glazed balcony with side railings.
Smoke ventilation systems are used where smoke ventilation is required. These come in Centre-Pivot, flat roof with kerb and the more traditional looking polycarbonate domed type.
Blinds
For the final finishing touch, why not think about some of the specially designed blinds which allow you to control the amount of daylight and the temperature within the room. Blinds, come in sizes to suit all windows and with a vast array of colours and styles to choose from, you will struggle to find something not to your taste.
Guaranteed products and service
VELUX offer a 10 year product guarantee on windows and flashings, with 25 years availability on parts, giving you long-term peace of mind.
There is a 3 year guarantee on all blinds, electrical products and accessories. All of this is backed up by a first class technical department.
Standard delivery from VELUX is 2 working days on the majority of their products.
Prices and discounts
As a VELUX distributor for a number of years, Buildershop UK is in a position to offer highly competitive prices across the whole range.
On our site we have all the most popular lines available and are constantly adding to our standard range. As there are so many combinations of flashing and glazing options available, it's difficult to list every option as it would be a bit of a minefield to navigate. If you can't find the products or combinations you require, don't worry, we are on hand 7 days a week to offer any help we can, simply contact us and we will offer the best prices and advice possible.