ENGINEERED TIMBER JOISTS - THE FREEDOM OF ANY INTERNAL ROOM LAYOUT WITHOUT THE CONSTRAINTS OF TRADITIONAL TIMBER JOISTS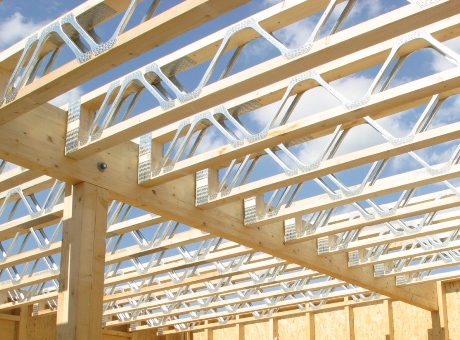 If you've ever been frustrated when you're creating the internal layout for your build, then realising the work you'll need to put in using timber floor joists…. you're not on your own. If we all had the time and money needed to cut, drill and lay each floor joist, then cut and drill again to add services, we could have our ideal floor plan. But the reality of the cost and hours involved often makes it unfeasible.
Posi-joists and I-joists are the new generation of engineered floor joists. They are made to measure, easy and quick to install, and will give you your ideal floorplan… without compromise.
The new generation of floor joists come with a host of other benefits too: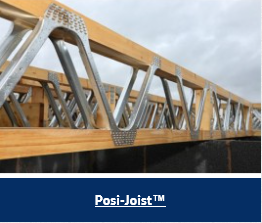 Posi-joists are the answer to a builder's prayers!
Posi-joists are made with a metal web construction, giving an open-web floor that's stable and strong, yet allows all of your services to run through the joists without the need to drill extra holes.
They are made to the exact length and depth you need, with fewer parts needed to achieve your finished floor structure – which means your overall installation time is far quicker, saving you money.
Using I-joists is a very efficient form for carrying both bending and shear in the plane of the web: their superior strength-to-weight ratio allows longer spans and easier handling.
Their shrink and warp resistance helps create 'quiet' floors and consistent dimensions provide extra stability. I-joists don't need insulation to gain compliance with Building Regulation Part E (sound) when installed at 400mm centres and above.
Buildershop UK offer made to measure engineered Posi-Joists™ and 'I' Joists for many different types of build, and we deliver nationally at highly competitive rates.
If you'd like a quote, please send us your requirements and we'll get back to you as soon as possible (during busy periods, it may take us up to a week to send your quote due to the bespoke nature of these jobs, but we assure you it will be worth waiting for!).
Whatever you need, call us on 01274 602367 or email us via the contact form