HOW TO FIND LAND TO BUILD ON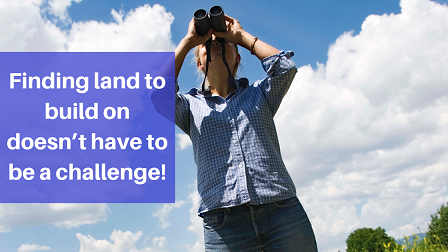 Five ways to find land to build on
It's widely known that finding land to build on in the UK is one of the most challenging obstacles for any new developer, especially for those of you looking for smaller plots to build an individual home, or a small housing development.
According to FullFact.org, around 90% of land in England cannot be used for construction as a result of the large number of protected areas; greenbelt land being one of them. That said, finding your perfect plot doesn't have to be a pipe dream. It's very possible to find plots in all shapes and sizes; thousands of people do it every year.
1. Find land online
The first crucial step is to narrow down your search area to a wider region, rather than a specific area of interest. When searching online you must be as flexible as possible. It's like finding a needle in a haystack so be realistic and ready to compromise.
Land listing agencies is the place to start. Specialist agencies such as plotfinder.net obtain information from potential sellers and estate agents, making it available free. The site breaks down by postcode, property type and specification.
It's the ideal starting point for understanding value for money, constraints and plot sizes within your specific area. The perfect research exercise so to speak.
2. Go to auction
Property auctions can be a daunting place for first timers, although we bet that you've seen Homes Under the Hammer (guilty pleasure), so you'll have an idea of how they work. Like good old Martin Roberts reminds auction goers every time, make sure you do your research before entering the auction hall:
Visit the site
Read the auction papers in detail
Check what planning permissions have been granted, rights of way and what you are actually buying (freehold etc.)
Look into the history of the land and its past purpose
Research any local constraints
With all your due diligence in place, you need to have a top price in mind, as auctions are unpredictable places, where rookies can get carried away and pay over the odds. To avoid this, wikihow suggests you should:
Hire help to do your due diligence for you. It's an upfront cost that you may not want to budget for, but it certainly helps if you are inexperienced in the process.
Find auction houses within your specific area. Online directories are great, but so are your local estate agents and newspapers.
Go to a couple of auctions to watch how people conduct themselves. You'll soon spot the avid bidder, as well as the amateurs.
Check the terms and conditions of the auction house, they all differ.
Make sure you have the money available before the auction as the buying process is fast once the hammer goes down.
Visit the UK Auction List for a directory of plots coming up for auction. You search by region and can select land/sites.
3. Become best friends with your local estate agents/land agents
When trying to compete with the big developers, it's important to get your local agents on your side, especially if you have a specific area in mind for your build.
Go in and have a friendly chat with them, explain what you're looking for and highlight how their help is vital in you achieving your goal. Ring them regularly so you are always at the forefront of their mind, and they'll soon be getting in touch with potential plots.
It's a long game, but a worthy one.
They'll also give you a rich understanding of the market. How much land is being sold? At what cost? Are the schools nearby in demand?
4. Do your own research
Once you have chosen your specific area it is wise to take a stroll around the locality, talk to the locals, pop into the local businesses to get a sense of the area. You could potentially have a chat with the town council, as local authorities publish a register of planning applications in their region, and as a result, you could find out about potential sellers.
5. Consider demolishing to rebuild
Purchasing with the aim of demolishing is a popular option. Houses with land that usually go to auction are sometimes in disrepair, so demolishing to rebuild is a cost-effective option. It's comparatively cheaper to demolish than to completely revamp the original infrastructure and with land to build on and planning permission in place, there is an option to build several properties on one plot.
All the above are sound starting points, so we wish you well in finding your dream piece of land. For more information on the various ways in which you could find a plot see: https://www.homebuilding.co.uk/