Square Diffused EM-Domes - Triple Glazed Rooflight
Square Diffused Polycarbonate EM-Domes in a variety of sizes with a Triple-glazing option.
PLEASE NOTE THAT SOME OF THE LARGER SIZES ARE SPECIAL ORDERS AND TAKE 5-7 WORKING DAYS. WE WILL NOTIFY YOU OF EXPECTED DELIVERY DATES IF THIS IS THE CASE.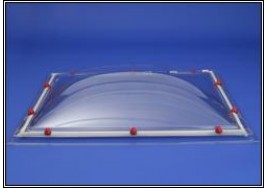 Triple Glazed Polycarbonate Flat Roof Domes are thermoformed from UV protected co-extruded polycarbo..
From: £198.41 (EX. VAT)
£198.41 (EX. VAT) | £238.09 (INC. VAT)