MADE-TO-MEASURE CONCRETE BEAM FLOORING. ALTERNATIVES TO TIMBER AND CONCRETE SLAB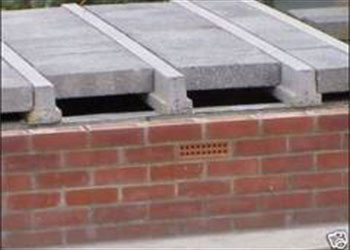 Whether its a commercial development, new housing, extension or even just to form a base of any sort, Buildershop UK can be of assistance. We can offer nationwide supply of Concrete Flooring Systems.
These come in two forms, namely Hollowcore and Beam and Block.
Hollowcore Precast Floors
Generally used on larger scale commercial developments where larger spans are required. They are also used in conjunction with achieving robust detail relating to Approved Document Part E 'Resistance to the Passage of Sound' when required for developments for blocks of flats and the like.
Beam and Block
Also referred to as Pot and Beam and Bison Beams is generally used when a solid house base is required to alleviate the need for a concrete slab foundation. It can also be a good way to build an elevated floor as Beam and Block can be used at any level of the build providing that safe loading facilities such as a crane are in place.
In this method of construction, beams are laid at the required centres and then the concrete or breeze blocks are placed as an infill to provide an immediate working platform. This is useful for builders to have a steady footing when constructing the internal walls.
Bespoke quotations
Whether its Hollowcore or Beam and Block, all we need to provide a quotation is a set of working drawings. Our network of nationwide suppliers will then calculate the exact loading requirements which will take into consideration every aspect if the build. On receipt of an order, where required, these calculations can be passed to your local building control department to supply them with all the relevant calculations they may ask for.
Site measuring
Buildershop UK has supplied countless floors to many sites across the UK. Our most recent project is a 24 bedroom care home at Castleford. As this site is not too far from our offices, we were able to assist in the actual on-site measuring of spans to make sure that everything was perfectly as the architects plan drawings. They were a couple of alterations but with a few notes, new working drawings were designed by our manufacturers to reflect the changes, therefore enabling the concrete beams to be delivered to site a week later ready for placement on the block walls.
Got a project you need help with? Contact us for assistance.