100mm Extra Heavy Duty Box Lintel
IG lintels for internal partitions and load bearing walls.
Benefits
• Made from high quality galvanised steel
• Direct floor or roof loads
• Supports concrete floor loads
• Supports point loads e.g. steel beams
• Integral plaster key with staggered slots on all sides of the box profile
These lintels will suit:
Wall width: 100mm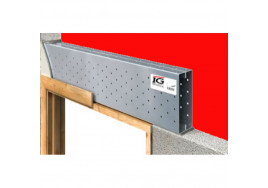 **Large discounts available for larger full project orders, please contact us for details** IG XH..
From: £381.02 (EX. VAT)
£381.02 (EX. VAT) | £457.22 (INC. VAT)