Foil Backed Plasterboard
Foil backed wallboards from British Gypsum, Knauf & Siniat (formerly Lafarge) GTEC. Depending on the manufacturer, boards are known as Duplex, Vapour Panel or Vapour Board respectively.
Manufacturers vary depending on location and or the quantity ordered. If you have specific requirements, please get in touch on 01274 602367 or email sales@buildershoponline.co.uk where we will assist where possible.
Duplex, Vapour Panel and Vapour Board - all give superior vapour resistance
Foil backed plasterboard have the same properties as standard wallboards but come with a metallised polyester foil which creates an effective vapour barrier to limit moisture diffusion.
Multiple choices
We have the most commonly stocked sizes listed here but it may be possible to source the thicker, larger sized foil backed plasterboards depending on your location and the quantity required. The largest size available in this board is 3000 x 1200 x 12.5mm. Please get in touch and we'll be happy to discuss the other size options available
Where and how to use them
Foil backed wallboards can be used for walls and ceilings.
Walls
Due to their foil backing, these boards are only suitable for mechanical fixing. If using on walls a suitable timber batten or metal wall lining system would be required so the boards can be mechanically fixed prior to finishing.
Ceilings
If fixing to ceilings, mechanical fitting is the way to go. This should be done by using clout nails or drywall screws. They can be fixed to either timber joists and rafters or the metal MF ceiling system.
Finishing
Once in situ, they are ready for either direct decoration, providing the correct jointing and sealing procedures have been followed or 'skimmed' with a suitable plaster finish such as Thistle Board Finish or Thistle Multi Finish.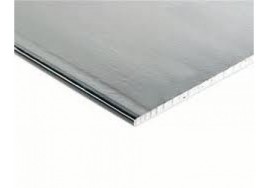 WallBoard backed with metallised foil vapour control membrane. Used for wall and ceiling linings ..
From: £6.46 (EX. VAT)
£7.55 (EX. VAT) | £9.06 (INC. VAT)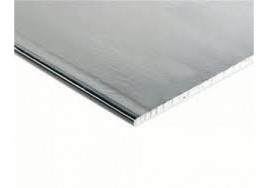 Used for wall and ceiling linings where vapour control and a plasterboard lining are required in one..
From: £8.73 (EX. VAT)
£10.35 (EX. VAT) | £12.42 (INC. VAT)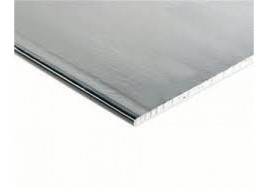 Used for wall and ceiling linings where vapour control and a plasterboard lining are required in one..
From: £8.73 (EX. VAT)
£10.38 (EX. VAT) | £12.46 (INC. VAT)