Plaster & Bonding Adhesives
Here you will find a selection of Thistle, Gyproc & Knauf plaster and dry-lining products at competitive prices.
A plaster product for every job
British Gypsum is a name synonymous to the plastering market in the UK. There are not many modern buildings on these shores that will not have at least one of their plaster products used within them, the 'Thistle' plaster range being the most popular of them all.
We have great deals on all the most commonly used products below. If you have any requirements for products from the British Gypsum or Knauf range that aren't shown, please get in touch on 01274 602367.
It may also be worth checking our Dry Lining Products & Tools category where you will find other similar products that may be of interest.
What are they used for?
The products you will find here are used for bonding plasterboards to walls, as a backing/first coat when wet plastering. The backing coats can then be finished off with Thistle Multi-Finish. When 'skimming' plasterboards, either Thistle Multi-Finish or Thistle Board Finish can be used. For more information, take a look at the relevant product pages where you will find a link to the manufacturer's web-site. This will allow you to get all the technical information you require.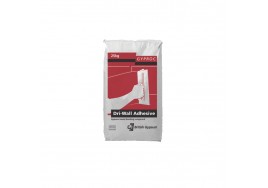 Gyproc Dri-Wall Adhesive is a general purpose gypsum-based adhesive. For use with British Gypsum Dri..
From: £9.31 (EX. VAT)
£9.99 (EX. VAT) | £11.99 (INC. VAT)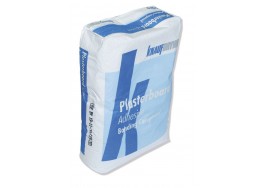 Knauf Bonding Compound is a multi-purpose gypsum-based adhesive for use with Knauf Metal Furrin..
From: £8.70 (EX. VAT)
£9.68 (EX. VAT) | £11.62 (INC. VAT)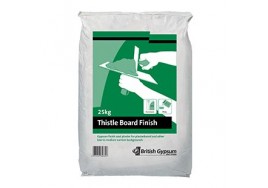 British Gypsum Thistle Board Finish is the ideal final coat plaster for low-medium suction..
From: £7.99 (EX. VAT)
£8.39 (EX. VAT) | £10.07 (INC. VAT)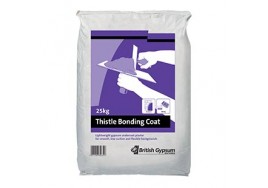 British Gypsum Thistle Bonding Coat is an undercoat plaster ideal for smooth and low suction backgro..
From: £10.47 (EX. VAT)
£10.92 (EX. VAT) | £13.10 (INC. VAT)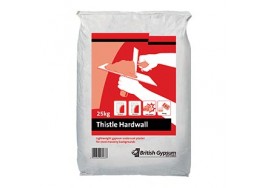 British Gypsum Thistle Hardwall Plaster is an undercoat plaster with high impact resistance and quic..
From: £10.45 (EX. VAT)
£11.81 (EX. VAT) | £14.17 (INC. VAT)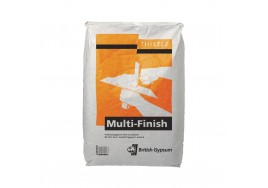 British Gypsum Thistle Multi Finish Plaster is a versatile final coat plaster which provid..
From: £7.99 (EX. VAT)
£8.49 (EX. VAT) | £10.19 (INC. VAT)