HardieBacker® Cement Board
At 12 mm thick HardieBacker® 500 cement board is the ideal choice for wet area walls; its smooth surface may be tiled, textured or wallpapered. However, if additional height is required HardieBacker® 500 cement board may also be used for floor or worktop applications.
Mouldblock™ technology - designed for kitchens, bathrooms and steam rooms
Its unique formulation provides a strong bond to all ceramic or natural stone tiles allowing you to explore the opportunities provided by thicker materials previously considered too heavy for application onto tile backing boards. HardieBacker® 500 cement board cement will carry applied weights of up to 45kg/m².
Produced using James Hardie's proprietary cement formulation, this water-resistant, no-mesh fibre cement board with Mouldblock™ technology is the essential tiling backer board for kitchens, bathrooms and steam rooms.
Unlike many other non-specific tile backing products, the HardieBacker® manufacturing process ensures dimensional stability even when exposed to water for prolonged periods. It contains no paper facing, a food source for mould, or gypsum, which can disintegrate with continuous moisture exposure. It is the lightest cement board available and is easily cut and installed. Furthermore, its unique formulation ensures a strong bond with all leading tile adhesives.
Peace of mind
HardieBacker® cement board is backed by a 10-year limited product warranty.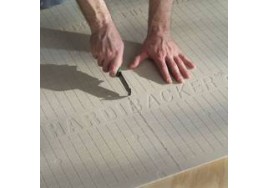 1200 x 800 x 12mm HardieBacker™ 500 (Minimum Of 10 Sheets) HardieieBacker™ cement board is made o..
From: £17.93 (EX. VAT)
£17.93 (EX. VAT) | £21.52 (INC. VAT)