Laminated Plasterboard
Laminated plasterboards from the leading manufacturers Kingspan Koolthem®, Celotex and British Gypsum.
Thermal laminate does two jobs in one
Laminated plasterboards or 'thermal laminate' boards as they are also known is a standard wallboard with a layer of insulation bonded to it for use in dry-lining. By using these boards it reduces labour times as the insulation and plasterboard can be installed in one process.
High levels of performance
From the aptly named Gyproc ThermaLine Basic, levels of thermal performance can be enhanced in any dwelling. These levels of performance are topped by the market leading Kingspan Kooltherm® K118 boards which give a thermal resistance value of 0.018 W/m.K
Where and how to use them
These laminated plasterboard sheets can be used for walls and ceilings. Type of fixing application depends on the type of product selected. Please see the product pages for further details.
Walls
If fixing to masonry walls, be it internal or external the usual method is to 'dot and dab'. This means using a suitable Dri-Wall Adhesive or Bonding Compound which the boards then adhere to, keeping them firmly in place. It is also recommended that additional secondary fixings such as nailable plugs are also used. They can also be mechanically fixed to timber battens that have been fitted to external walls.
Thermal laminates are also suitable for mechanically fixing to metal wall lining systems.
Ceilings
If fixing to ceilings, mechanical fitting is the way to go. This should be done by using drywall screws. They can be fixed to either timber rafters or the metal type trussed roofs.
Finishing
Once in situ, they are ready for either direct decorating, providing the correct jointing and sealing procedures have been followed or 'skimmed' with a suitable plaster finish such as Thistle Board Finish or Thistle Multi Finish.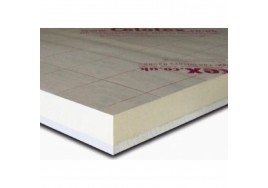 Celotex PL4000 (replacing the PL3000 range) insulated plasterboard is made by bonding a la..
From: £33.90 (EX. VAT)
£33.90 (EX. VAT) | £40.68 (INC. VAT)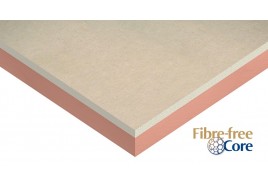 Kingspan Kooltherm® K118 are market leading, premium performance rigid thermoset phenolic insulated ..
From: £1,028.39 (EX. VAT)
£1,028.39 (EX. VAT) | £1,234.07 (INC. VAT)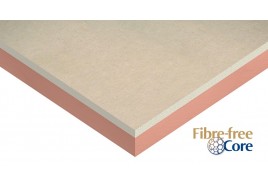 PLEASE NOTE THAT IN SOME AREAS, CERTAIN THICKNESSES MAY ONLY BE AVAILABLE IN FULL PACKS. IF THIS IS ..
From: £84.89 (EX. VAT)
£84.89 (EX. VAT) | £101.87 (INC. VAT)